The 2016 Broad Street Run was a unique experience to say the least. It rained, then rained some more and finally rained even more. The rain began heavily at the start line and continued through the majority of the race. For me around mile 8 – 9 it slowed down, but sure enough picked back up heading to the finish line. The 2016 Broad Street Run will forever be a unique bond shared by the runners who were on that course that day. Even though it rained, it did not stop from it being a successful race.
The Expo:
The Broad Street Run expo is as good as an expo as you will find. It is held the Friday and Saturday of the race weekend. Hundreds of vendors come out to show off their gear and allow runners to try before they buy. You can also pick up official race gear as well. The bib pick up portion was relatively smooth as usual. As long as you knew your bib number you could walk up and get your bib with ease. And if you didn't have the number there was a board for you to look it up. Once you got your bib you went and picked up your race bag and finally your race t-shirt. The bag was a just a clear draw string bag. Not much to write home about. However Broad Street no longer allows backpacks in the finish area, only clear bags, so this is probably why they went so basic. I also felt the official race shirt was pretty basic this year. I have a sneaking suspicion this is a result of the organizers to upsell runners the tech upgrade or nicer shirts from their official store, but can't confirm.

The Course:
The BSR course may be one of the best I have ever run. I have written about it many times before so I will keep it simple (mainly because it never changes year after year). It is a 10 mile straight shot down Broad Street starting in North Philadelphia and ending at the Navy Yard in South Philadelphia. Along the 10 miles you pass by Temple University, the large skyscrapers that make up center city, the famous Row Homes from the Rocky movies in South Philly and finally the stadiums where the Eagles, Phillies, Sixers and Flyers play. There is so much to see just on this 10 mile course. With 40,000 people the course does tend to get a bit crowded (especially at the starting line) but within a few miles it clears up.
Every year Philadelphia comes out for this race. Most years the majority of the course is filled with spectators cheering along side everyone. If there are 40,000 runners on the course, there are probably another 5-10,000 spectators covering the sidewalks and cheering everyone on. Unfortunately due to the rain the course was a little scaled down from most years. Not as many spectators at their normal spots. But for the spectators that did show up, I say a huge THANK YOU!
My Concerns:
As a now three time Broad Street runner the newness of the race is wearing off. As a result I no longer see things through rose colored glasses. Those issues before I overlooked are now becoming annoyances. However there are only two areas I feel this way: the start and finish line. I completely understand that logistics of a 40,000 person race must be a nightmare. So to do it with little to no issues isn't easy. However things can still be changed. As far as the starting line goes, I think people need to understand an 8:00 start time is for the elites. This is not the start time for everyone. In 2015 I was in the last corral, in 2016 I was in the second to last corral. In both years I didn't cross the start line until at least 45 minutes after the race started. They should give runners an estimate on when their corral would be crossing the start line. With 7 corrals you will be standing around in a jam packed area for a while.
The finish line is also an issue. Broad Street is 4 lanes wide for the majority of the course. Giving 40,000 runners plenty of room to move. Unfortunately the finish area ends at the Navy Yard which becomes 2 lanes only. As a result you are left standing around for 20 minutes trying to herd through the finish line to get to your spectators. You finish the race and instead of just getting your medal and walking away, you are forced to be shoulder to shoulder with many other runners waiting to end. A solution to this would be to move the finish line up 1 more mile to the local sports stadiums. There is tons of room with parking lots to move around once you finish. I realize the logistics for something like this would be difficult to manage, but it would not be impossible.
This was me trying to get into my start corral: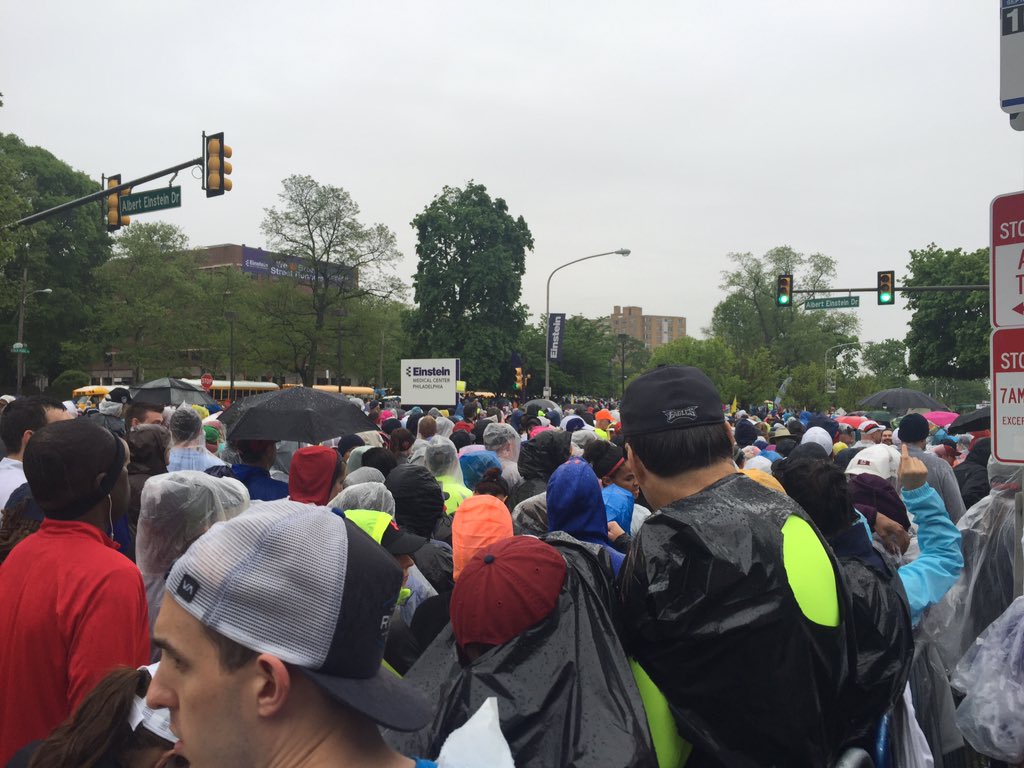 Overall Experience:
Regardless of the two issues I listed above, I still rave about Broad Street to everyone that will listen. It is the quintessential Philadelphia race. If you have ever wanted to run a Philly race (whether you are local or not) the BSR is the one race you MUST run. Having said that as a 3 time BSR finisher I am not a lock to run in 2017. I love the race and still may spectate it. But the start and finish issues make me questionable to run again. However I will continue to support anyone who chooses BSR as a race they want to sign up for, because it is a bucket list race for sure.