The 2016 Love Run Half Marathon has come and gone, and what an exciting blur it was! If you're not familiar with the Love Run (and at this point I have to imagine you are) it is the premier spring Half Marathon for Philadelphia. And premier is the perfect way to describe this race.
The race is organized by CGI Racing who also runs the United Half Marathon at Rutgers University and New Jersey State Triathlon. CGI knows what they are doing when it comes to organizing a race. With 10,000 runners (yes they get into the 5 digit number for this race) logistics can get messy. However the Love Run couldn't have been run any smoother.
Swag
Competitor Magazine named Love Run as their "Best Race Swag" in the 2015 Best of Competitor competition. And this is for a good reason. What race do you know that gives away professional grade race photo's for free? Yes, free! Along with free race photos every runner walked away with a free coffee mug. Each runner received a tech t-shirt, large finisher medal and an awesome post race party with free beer! You also can customize your bib and put your name, a message or nickname on it. So you can say the Love Run has earned their Best Race Swag award.
Expo
Unfortunately the weather leading up to the run wasn't that great. We got snow the day before. Yes, snow in April! As a result it was easy for the expo to be ruined. However with this awful weather the expo still was a huge success. You walked into a large tented area and looked up your bib number on one of their computers. Once your bib number was identified you walked to the corresponding line and picked up your bib and race bag. Then you entered the expo and you could get your race shirt and mug. If you did just the basics you were in and out in less than 5 minutes.
But with so many vendors there, why would you want to do just the basics, what fun is that? Even though the expo was tented off, there were still dozens of vendors set up to shop at. You could pick up running clothes, shoes, and so many different accessories. You could have easily spent most your afternoon at the expo shopping. There were also plenty of backdrops set up to snap a few pics. When you were done with the expo? You could head into Xfinity live and grab a free beer with a tag on your bib. The weather had a great chance of ruining the expo. However the race organizers would not allow it.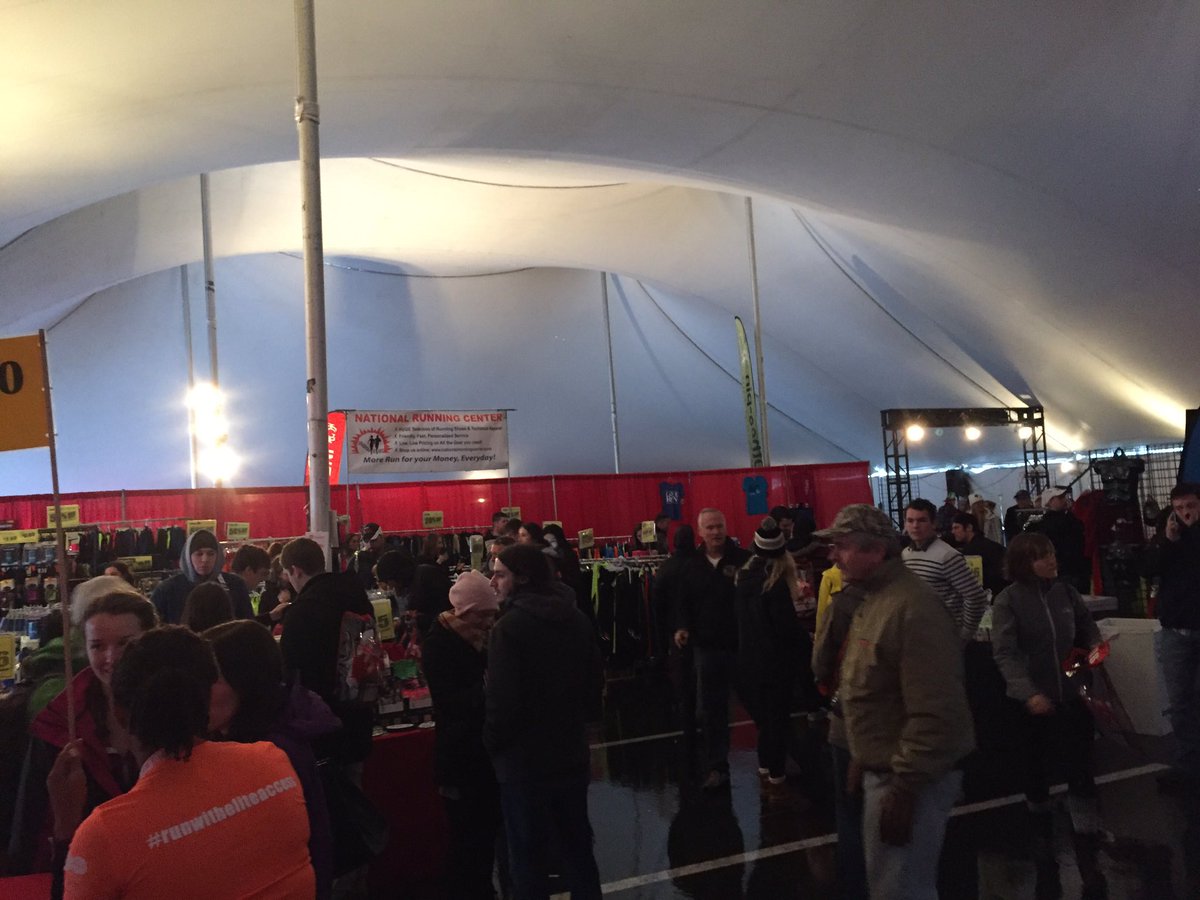 The Course
While the weather for the expo was pretty bad, the weather on race day ended up being great. It was a bit chilly out, but nothing that was too unbearable. As a result the course was great. The race ran right through some of the busiest parts of center city Philadelphia. And the race organizers did a great job making sure the course was blocked off properly.
I will do my best to to explain the course to locals. It began at the art museum, ran down Ben Franklin Parkway, east down arch street, back west down market street, then headed back up the Ben Franklin Parkway, up MLK drive, through West Fairmount Park, back down MLK drive and finally finishing back at the art museum.
For non locals, here is what I just described in a map:
For the most part the course was your standard half marathon route for Philly races. However that trip into West Fairmount Park made any feelings of success fade very quick. Hills, hills and more hills. It started with one large hill. Then flattened out, but quickly introduced a new hill. While the majority of the course was flat, miles 6-8 were a hilly battle.
See for yourself on this elevation map:
Overall Experience
There really is only one way to describe the overall experience of the Love Run. And that is that they have earned every part of being known as Philadelphia's Premier Spring Half Marathon. If you are looking for a Philadelphia area Half Marathon, this is a must to put on your list. 10,000 runners can't be wrong.