Disclosure: This post is sponsored by SLS3. I received a free SLS3 Dual Pocket Running Belt for the purpose of this review. All opinions are my own.
Truth be told I had never run with a running belt before. Not that I was against the idea, it just never occurred to me. So when SLS3 reached out regarding their Dual Pocket Running Belt I was very intrigued by the idea.
What I initially enjoyed about the belt was the convenience. Whether it is a short run or a lung run I usually carry the same items on me; my phone/ iPod and some form of ID (always important to have on you). Finding somewhere to carry them can be inconvenient at times. Arm bands work, however sometimes I find they tend to slip down your arm after too long of a run. You can put them in your pockets if you have them, but they can jostle around and become an inconvenience.
Convenience
That is what I found most enjoyable about the running belt. While it has a very slim look to it, there are no issues with storage. The pockets expand to be able to carry your larger sized smart phones. Personally I have an iPhone 6 with an OtterBox cover and that fit into the storage pocket with no issue. Beyond the width of the pockets they are also long. So if you have more than just a phone and ID on you that is not a problem. You can throw in other items you may need as well. On long runs I like to bring cash with me. Especially when I am running the SRT and head towards Conshohocken. I like to have a few dollars on me to stop at The Outbound Station cafe. I know I am not alone on that one.
Fit/ Feel
The feel and design of the belt are also very runner friendly. I mentioned earlier how arm bands tend to slide around after running for too long. This running belt does not have the same issue. There is an adjustable strap on the belt to prevent this from happening. (And to help adjust as you increase your running and lose a few inches on your waist)
Beyond staying where it is design to stay it also stays on your hips and does not move around much. For me I do not like to run in gear that will jostle around. If I am wearing gear during a run I want it designed to stay put. And that is exactly what the SLS3 running belt does. It stays where it should and does not move around as you are running.
Durability
From all things I can tell about the running belt is its durability is high. Not only is it water resistant so you can protect your items on those rainy day runs, but it appears to be made of high quality materials as well. Both zippers on the belt seem to have no issues even after many, many uses. Also, the belt clip still clips just as strong as it did on the first run. Not only does this belt hold up to the normal wear and tear of running, but it is built to survive whatever element you take it through.
Color
You can get a belt in your own specific color as well. The belt is slim in design so you would think it couldn't be personalized much. However that is not the case. You can pick out a belt in your specific color to show off your own kind of personality.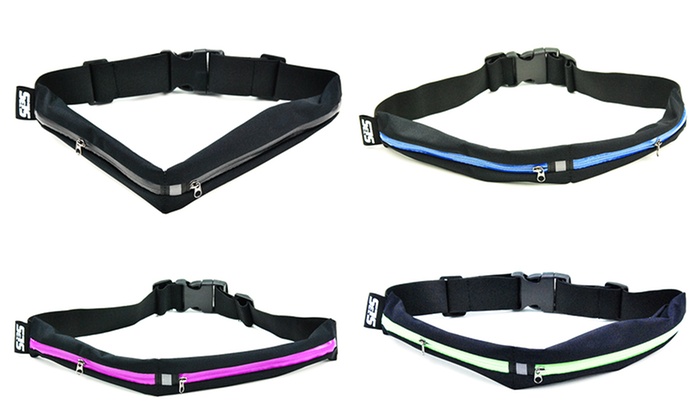 Overall Experience
Overall I thoroughly enjoyed this running belt and I am a believer. I no longer have to find places to conveniently hold my items while I am running. I have a belt I can put on, store my items and go! I would highly recommend this belt to anyone looking for the same conveniences that I have found. Don't believe me? Check out this item on amazon and see for yourself.4.6 out of 5 stars must mean something!
Other Products
SLS3 is a great company for products beyond just this running belt. If you visit their website you will find products such as compression gear, a hydration run belt, race belt and more! This is a company that can be trusted with a products like these.